Your One-Stop Shop for Minibike Engine Restoration Services
Minigunz.com is a full-service restoration company that specializes in the Z50 and CT70 Honda engines. Backed by Jeff Tuttobene, a 35-year Honda Pro Technician with a diploma from Factory Honda, we repair and restore Honda engines from budget builds, or to a full 10-point restoration.
Some of our services include:
Engine Restoration: $1200+
Cylinder Boring: $100 Labor + Parts
Ignition Rebuild: $100 Labor + Parts
Cylinder Head Rebuild: $125 Labor + Parts
Top End Rebuild: $450 Labor + Parts
Labor rate for other work: $80
Polishing and plating services are available; contact us for a quote.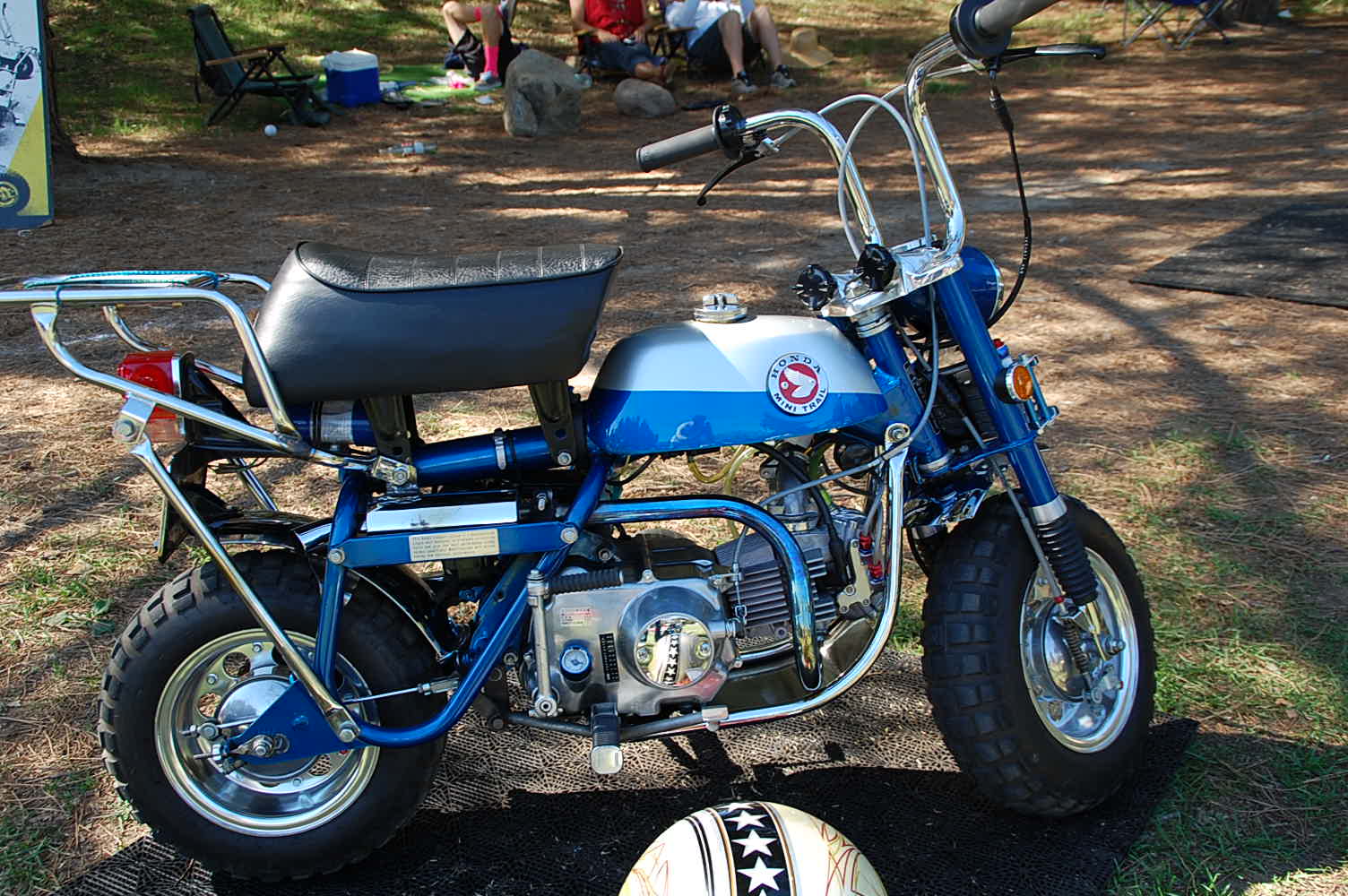 Minigunz.com is a full service and restoration company that specializes in the Z50 and CT70 Honda engines. Backed by Jeff Tuttobene, a 35 year Honda Pro Technician with a diploma from Factory Honda. We repair and restore 1962-2010 Honda Engines for budget builds to full 10-point restorations.

The above photo is how most motors are recieved and then a full evaluation is done to determine any unseen damage, i.e. CRACKED cases, broken fins, stripped threads like footpegs, sparkplugs, case screws, stripped splines on the shift shaft or kick starter shaft, wire harness damage, ETC. The customer is notified and photos are emailed to let the customer see what the extra needs should be addressed while the motor is apart. Customer approval is required before work goes forward.
Below is a photo of a motor stripped down to inspect all the internal componants. this motor is getting the full restoration. parts and labor included in the $750.00 price are as follows: Bore job on the cylinder, new piston, rings , pin, clips, Valve job and glass bead for the cylinder head and leak tested ,if valves need replace the customer is notified first, valves are extra , Clutch rebuild with new friction plates included , crankshaft inspection, new main bearings are $20.00 ea x 2 not included, labor is included to install. The motor will spin up better if new mains are installed. The Transmission is inspected for shift fork wear and gear damage, customer notified if any extra costs. Any and all threads are repaired while the motor is apart, thread repair is extra. The Electrical Stator is inspected, customer notified if parts are needed, all new Gaskets and seals are included in the cost, as is polishing and paint for the outter cases, all new Zinc plated screws and hardware are included. The motor is carefully assembled and test run in a test stand for 1 hour and the valves are reset and the head is retorqued to spec, The ignition timing is set with a timing light. the trans is run through the gears to verify output. The motors are packaged in a special thick wall box just for motors and shipped back to the customer with no oil in the motor. A label is on the motor to denote that. Install the Motor , INSTALL MOTOR OIL, hook up the electrical. exhaust with gasket , and carburetor , NOTE the carb should be cleaned out of any old fuel. jets need to see daylight through them , if your not sure we provide a carb rebuilding service for a fee. Run the motor for an hour and change the oil. just to purge any lint or dust.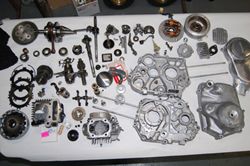 Below on the left is a used cylinder. The right photo is a fresh cylinder bored to size and piston and rings to match, new 500 degree paint , this service is $50.00 for the bore job only! The cylinder painted is $20.00 and the parts are $55.00 , there 0.75 over as in 3rd over as alot of cylinders are worn or rusted and require that bore. Trust us don't try and re ring your old bore it will smoke and use oil. RING END GAP POLICY is this formula .0035" ENDGAP x BORE SIZE(in inches) for every inch in diameter of your bore. This is the right way to build motors not guessing. Always Bore set the piston to cyl. wall clearance at .0015"-.002" for all Honda pistons four stroke style for proper clearance . any questions email [email protected]

The left photo is a used cylinder head before restoration and valve job. The right side photo is the same cylinder head after #8 bead blasting, all threads are plugged and caps for the valves are in place before the bead blasting process, that way there is no contamination from bead in the threads, trust me, bead will cause the caps and screws to sieze in the threads and it will ruin a head trying to force them out after you have the motor assembled, we fix your problems for a price. Or have us do the service for $100.00 bead blast and valve job, new valves are not included if needed in this cost, they range from $25.00-$45.00 each depending on Z50 or ct70 . all heads are leak checked after assembly and installed or shipped.

Heres the outer clutch cover resto. The far left is used normal condition , the center has a ding on the dome that leaks oil. we can weld that but it shows up when repainted, because of differant metals, the right picture is a finished cover after no welding, just bead blasted, we don't use bondo or liquid steel to do body work as it shows through the paint as differant material. just give us a good part to begin with and we can make it look good with our Honda cloud silver after blasting.
Next is the outter cylinder head covers, the first two photos are used and damaged covers, the third picture is the covers restored with #8 glass bead blast, ready for installation on a restored motor or top end. $10.00 to bead blast both covers.


Magneto cover for the Z50/CT covers are stripped of paint and buffed to knock dowm any dings , not all dings can be removed , the dome is polished and taped off then the cover is bead blasted in prep for paint, the Honda Cloud Silver is applied and oven cured at 120 degrees for 1 hour. cost for this service is $30.00
This is a comparison of before and after of the engine cases stripped and bead blasted for restoration , we use #8 glass bead at 150 psi with bolts in all the threaded areas so no contamination is involved, the cases are hot soap washed and solvent tanked to make sure the cases are clean, if the cleaning process is not done right you could have media from the blaster in your motor when you reassemble it, I have had customers do this themselves and blow up motors due to thier not adhereing to this clean factor. Then they send it to me to repair. and it's a crime scene. Trust me leave it to the PROS it's not worth all the ruined parts that will follow if you do it yourself in your garage. Whats the addage? save a dollar and spend a hundred fixing the problem you created.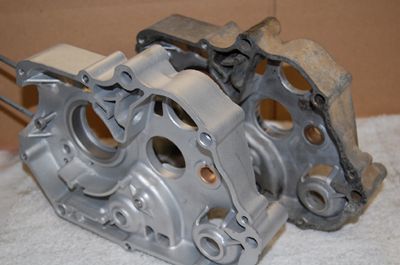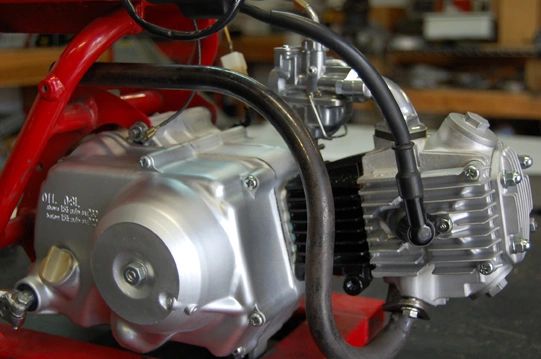 This is the same motor at the beginning that is finished and in the test stand to run before it is returned to the customer. He had his carburetor rebuilt for the seperate price and he had a new cam chain and roller installed to keep the cam timing in check. that was extra. But the motor fired up on the second kick and idled smoothly and was run for 1 hour with a fan on it. all valve clearances were rechecked. timing was set with a strobe light, the head was retorqued after warmup. the carb adjustments were set and the unit purrrrred like a new model off the showroom. Well Done and He will send me his next motor in a week to have it finished out the same way.
Minigunz has restored motors for 30 years and has never had a return for issues, the customers just keep restoring more bikes and shipping motors for restoration. We do restorations also but a lot of customers cut corners doing that themselves,
Minigunz provides these extra services:
ZINC PLATING OF ALL STEEL HARDWARE. min 5 lb bucket $100.00
Polishing, per part $5.00 - $20.00 ea
Chroming, per part $10.00 - 100.00 ea
Glass bead, per part $5.00 - $50.00ea
Boring cylinders $50.00 ea
Painting cylinder is extra, $20.00
Valve jobs on heads only $50.00! Bead blasting not included, thats $20.00 more, new valves not included, they are only included if customer approves, set price as per OEM Honda prices, seals and reassembly are included
All quotes are based on clean and degreased parts, cleaning is extra for degreasing and prep on any parts. $60.00 hour. Clean your parts first save money. Thanks Jeff
Minigunz offers full custom machine services and custom exhaust services, just depends on what is involved, email - [email protected] for a quote. Thank You.